In this classroom, the students (the superheroes) are cared about. My goal is to encourage the students to be the best person they can be and support them in every way. I promise to do my best to help them learn and grow both inside the classroom and outside the classroom. The students have wonderful gifts, strengths, and talents and I can't wait for them to share them all with their classmates and I. From what I have seen so far, they are unique and wonderful!
Contact me: Please feel free to contact me throughout the school year. I want to be your partner in supporting your child in any way. ClassDojo is the easiest and fastest way to contact me, however, feel free to email me at any time as well. Email – mgillis@scgstl.org
Week of November 11th – November 15th
ELA/Grammar: Unit 2 Week 1:

Students will read

"Flowers!"
EQ: How are flowers unique?
SWBAT
This week's sight words: have, is
Phonics/Phonics Awareness: Initial/Spelled: /Aa/
Vocabulary Words:
buds
seeds
stem
root
Grammar Skill: Nouns – students will learn that a noun is a word that names a person, animal, place or thing
Comprehension Skill: Compare & Contrast – students will learn how to tell things that are alike and are different
Genre: Nonfiction – a book which gives true information.
Weekly Sentences:
I have a mat.
Is Tam little?
I have a little mat.
The mate is little.
Math (K.CC.4.b) Topic 3: 3-7: Problem Solving: Look for a Pattern
EQ: How can you predict what comes next in a growing pattern?
SWBAT solve problems by identifying growing patterns and predicting what comes next.
K.CC.4.b. Understand that the last number name said tells the number of objects counted. The number of objects is the same regardless of their arrangement or the order in which they counted.
Religion
Lesson: Being Thankful. EQ:What are the things we are thankful for?
SWBAT recall the story "The Thankful Coat"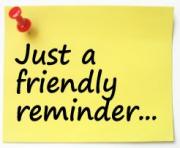 Friday Nov.15th: Last day of Thanksgiving food drive & last day to purchase tickets for Radio City Christmas Show.
Monday: Music and Art
Tuesday: Library and Gym
Wednesday: Computer and Library
Thursday: Gym
Friday: Music