In this classroom, the students (the superheroes) are cared about. My goal is to encourage the students to be the best person they can be and support them in every way. I promise to do my best to help them learn and grow both inside the classroom and outside the classroom. The students have wonderful gifts, strengths, and talents and I can't wait for them to share them all with their classmates and I. From what I have seen so far, they are unique and wonderful!
Contact me: Please feel free to contact me throughout the school year. I want to be your partner in supporting your child in any way. ClassDojo is the easiest and fastest way to contact me, however, feel free to email me at any time as well. Email – mgillis@scgstl.org
Week of January 27th – January 31st
HAPPY CATHOLIC SCHOOLS WEEK!!!!
BELOW IS A SCHEDULE OF EVENTS THAT WILL TAKE PLACE THIS WEEK!!!!!!
MONDAY: BUDDY DAY: KINDERGARTEN WILL BUDDY WITH 2ND AND 6TH GRADERS. OUR BUDDY COLOR IS BLACK!
TUESDAY: STUDENT APPRECIATION DAY/ MAKE AND WEAR A CRAZY HAT – BE CREATIVE AND HAVE FUN WITH IT! TOURING TUESDAY- NEW FAMILIES COME TO VISIT AND SEE US IN ACTION! MRS. CHARLES WILL HOST A PIZZA LUNCHEON- BRING YOUR OWN DRINK! TREATS AFTER LUNCH HOSTED BY YOUR TEACHER!
WEDNESDAY- PAJAMA DAY- FLANNELS/ SWEATS NO ONESIES PLEASE. SWITCH-A-ROO- FACULTY AND ADMINISTRATION WILL SWITCH ROLES! AFTERNOON DANCE OFF!
THURSDAY- CSW MASS- 10AM FULL UNIFORM! ALL ARE WELCOME TO JOIN US. SCHOOL WIDE BUDDY BINGO @2PM.
FRIDAY- TEACHER APPRECIATION DAY/ SOUPER BOWL FRIDAY- STUDENTS WEAR A TEAM SHIRT OF ANY SPORT AND BRING IN A CAN OF SOUP FOR OUR PARISH PANTRY OR A $2.00 DONATION – WE'RE HELPING OUR COMMUNITY! DISMISSAL 11:30 BUS STUDENTS 12:30 CLASS DISMISSAL! PLEASE BE ON TIME!
ELA/Grammar
ELA/Grammar: Unit 2 Week 6:

Students will continue to read

"Little Panda!"
EQ: How does a panda change in it's first year of life?
SWBAT understand that as a panda gets older it changes in size, just like they do and it can do new things and has new experiences.
This week's sight words: me, with, she
Phonics/Phonics Awareness: Initial/Final/Spelled/: /Bb/ & /Nn/
Vocabulary Words:
Grammar Skill: Verbs – a word that tell what someone or something does.
Comprehension Skill: Compare & Contrast- telling how things alike and different.
Genre: Nonfiction – a book that gives true information.
Weekly Sentences:
He is my cat Pip.
Pip can sit for Tim.
He can tap it.
Math (K.CC.1) Topic 6: 6-4: Number: Counting Groups of Ten
EQ: How can you count objects that are in groups of 10?
SWBAT count groups of 10, up to 10 tens, and write how many.
K.CC.1. Count to 100 by ones and by tens.
R

eligion
Lesson: Catholic Schools Week
EQ:Why do you love going to a Catholic school?
SWBAT tell why they love going to a Catholic school and what it means to be a catholic.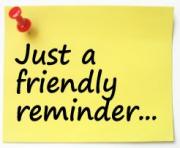 Friday Jan. 31st – HALF DAY! 12:30PM DISMISSAL AND 11:30AM DISMISSAL FOR BUS STUDENTS ONLY!!
Candy Sale Continues. Please support!
October:
Student of the Month – Franck Levielle IV
All Christian Effort Award – John Jerome
November:
Student of the Month – Kimaya Ward
All Christian Effort Award – Ian Faroul
Monday: Music and Art
Tuesday: Library and Gym
Wednesday: Computer and Library
Thursday: Gym
Friday: Music